【Dr. Mayuko blog 】I will answer some questions about Coolsculpting!
2023-02-27
*日本語バージョンは1つ前のブログにありますのでよろしければぜひご一読ください。
In this issue, I will try to answer some of the questions I often receive about CoolSculpting.
If you are curious about CoolSculpting but are not sure about it, or if you are wondering which clinic to go to, I hope this blog will help you in your process.
Q: How much does the treatment cost?
This is a very common question, everyone wants to know the cost of this treatment. The cost of Coolsculpting treatment depends on which and how many applicators are used. This is an important point but often misunderstood. So I will discuss it while showing you some case examples.
First, let's start with the most popular area in our clinic, the arms.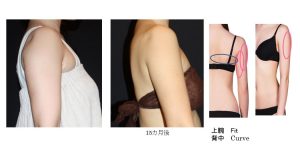 When the arms are to be slimmed down, three Advantage applicators are applied to the arms.
In this case, three Advantage applicators were applied and the entire arm was slimmed down during one session of approximately one and a half hours.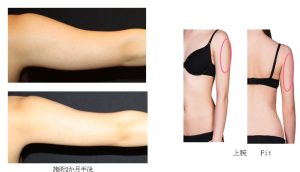 In this next case, we placed two Advantage applicators, one on the side and one on the back of the patient's arm. This achieved a full fat reduction but you can also choose to partially remove fat. For example, only in the part of the sleeves, or only in the on the outside of your arms that you can observe when they are hanging straight down.
Depending on the application and your desired results, the costs are determined by the number of applications:
3 Advantage: ¥214,500
2 Advantage: ¥143,000
Next is a case pertaining to the abdomen:
There are various patterns of placement of the applicator around the abdomen depending on how the fat is attached.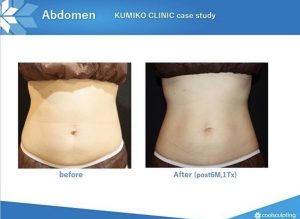 In this case, 5 Advantage applicators were employed. By doing this to the patient's flanks, a waistline was created and a vertical line was also added to the abdomen. The total design of the abdomen and flanks will definitely improve the aesthetic of the patient.
5 Advantage: ¥357,500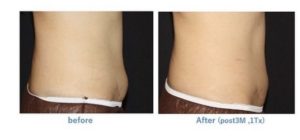 This case concerned a patient's flabby lower abdomen, so we put one Advantage applicator on her lower abdomen. The roundness of her lower abdomen was removed and her abdomen became flat.
1 Advantage: ¥71,500
Another common area is the back. When the back/bra fat are removed, tight knitwear and T-shirts look will appear flat and athletic.
This is the part of the body that you can't see but others can see very well. The back is also considered essential for a beautiful body line!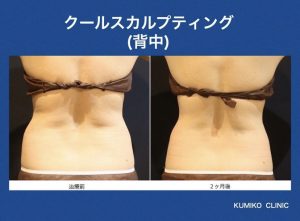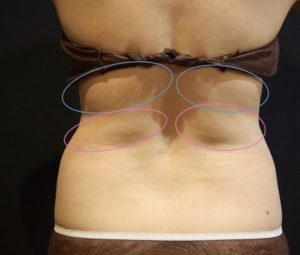 In this case, the bumpy lumps on the patient's back have been removed and it looks much nicer. In this case, 4 Advantage applicators were placed in places as shown in the picture.
4 Advantage: ¥286,000
Next, I will show you a case of legs.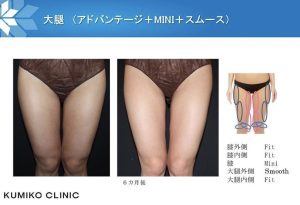 In this case, two Smooth applicators were placed on the outer thigh and two Advantage applicators were placed on the inner thigh.
4 Advantage applicators were placed on the inner and outer knee, and 4 Mini applicators were placed just above the knee. We placed them so that the whole thigh is one size thinner – so there is a space between the thighs, and the whole body is more comfortable.
2 Smooth, 6 Advantage, 4 Mini; ¥957,000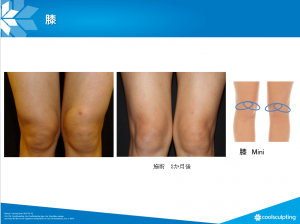 Here we placed 2 Minis on each side above the knee. This is recommended because the legs look slimmer and longer when thickness above the knees is reduced.
4 Mini: ¥352,000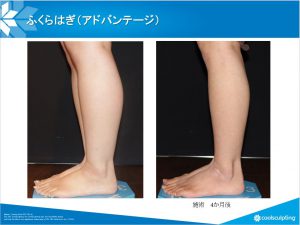 Here we are considering calf reduction. There are both muscle and fat factors that contribute to calf thickness.
It is the larger fat factor that changes with Coolsculpting. In this case, 4 Advantages were placed on the calf and the effect was significant.
4 Advantage: ¥286,000
Next is a case of submental area – under the chin. The combination treatment of Coolsculpting and filler under the chin to create stronger jawlines is very popular at our clinic.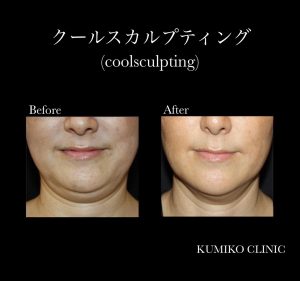 In this case, Coolsculpting has cleared the jawline and removed the patient's double chin. If you want to further smooth out your jawlines from here, filler can be used in combination for a very beautiful result.
In this article, I have given you some indication of the budget for the most popular applications of Coolsculpting at our clinic. We can also treat any other areas where the fat can be pinched, so please feel free to talk to us to see if the procedure is right for you.
Also, our clinic offers a discount system depending on the number of cycles (1 applicator = 1 cycle).
If you are planning to have multiple treatments, you can get a discount on your treatment!
10-19 cycles: 10% off
20-29 cycles: 15% off
30 cycles or more: 20% off
The type and number of applicators will vary depending on how much fat you have, so we will make suggestions about this after actually considering your current situation.
Of course, if you have a budget, please be assured that we will adjust our assessment to ensure that all the procedures are well within your budget.
Q. Why do costs vary from clinic to clinic?
There are many clinics that have Coolsculpting, but their fees differ from clinic to clinic. Below are some of the reasons why they are different clinic to clinic:
1. All clinicians have taken Coolsculpting training.
Coolsculpting practitioners are certified via a course called CSE (Coolsculpting Education) and all our clinicians have completed the entire course.
Therefore, all our clinicians are well versed in anatomy, applicator characteristics, and methods, and are able to provide safe, secure, and effective results.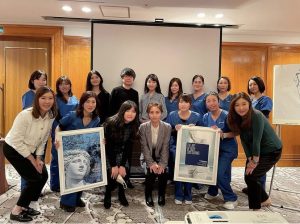 2. Doctors give the assessment
The doctor will check your body from various angles while sitting in a chair with casters. This ensures that the doctor can assess the patient while from various angles to determine the best treatment approach.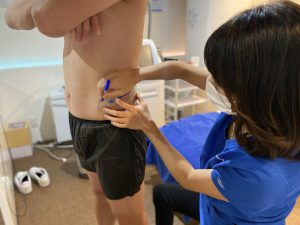 We don't just remove fat blindly, we conduct our assessments with the following considerations in mind:
"how to create a beautiful body line"
"where to remove fat to achieve the ideal line."
3. The number of our treatments is one of the highest in Japan
Coolsculpting has consistently been one of the most popular treatments in our clinic and has received many reservations, and the number of cases has exceeded 7,000 applications. Based on the knowledge we have gained from our training, we provide personalized treatment to meet the needs of each and every patient.
4. Our dedicated room to Coolsculpting sets us apart from other clinics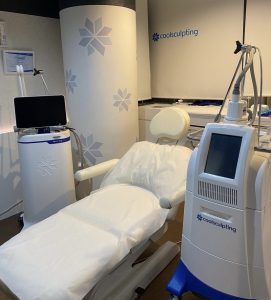 By creating a dedicated room, everything from changing your clothes to treatments can be completed in one room, so you can undergo your treatment in a relaxed atmosphere. In addition, although there are many male patients that desire Coolsculpting, they don't have to see or interact with other patients due to our discrete and dedicated facility.
5. Two Coolsculpting machines
Our latest machine is the Elite model, but we also have an older model in our clinic. The nice thing about having both models is that they have slightly different applicators. Having a total of 12 different applicators, both old and new, allows for us to further fine-tuning the design of your treatment.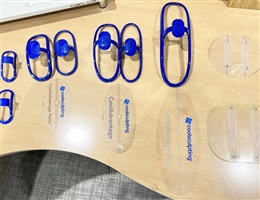 6. High patient repeat rate
Our clinic's crucially high repeat rate is 45.2% which is much higher than the industry average.
Dr. Shimojima has given many lectures on the topic of Coolsculpting, and doctors from overseas have been surprised at the effectiveness of Coolsculpting after observing our clinic's successes.
We have been developing and pursuing our own original way of patient treatment that has led to our industry-leading success rate.
We all do our best to satisfy the patients we treat every day so that they will come back to our clinic again.
I think this motto of Dr. Shimojima leads to our leading repeat rate.
Q. How many times should the same area be treated?
Coolsculpting can remove 20 to 30% of fat in one session. One treatment is effective, but the visual impact is greater when performed two or more times. Treatments in the same area are generally performed 8 weeks apart.
Here is another case.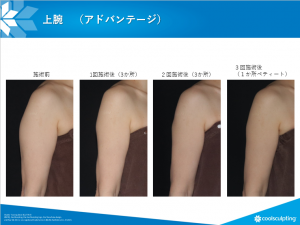 You can see a rounded and refreshed look after one treatment, but the effect after three treatments is quite obvious and thinner overall. We recommend that you try one treatment first to see the effect, and then consider whether to add a second or third treatment.
Q. What is the downtime after the treatment?
There will be redness and a dullness in your skin after the treatment, but it will improve within a few hours to a few days.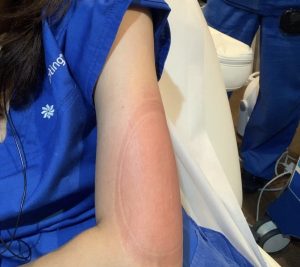 Downtime may vary from person to person, but it does not affect the results of the procedure. There are no restrictions on your daily life after the procedure, so you can exercise, enjoy a massage, perform yoga, etc. right away.
I have endeavored to answer the most frequently asked questions about Coolsculpting. If you have any other questions, please reach out to us to book your consultation.
≪ブログ監修≫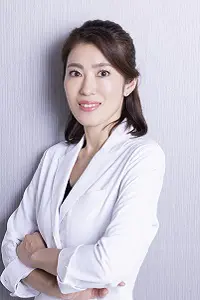 KUMIKO CLINIC
Dr. Mayuko Hashimoto
>プロフィール

公式LINE「お友だち登録で5%OFFクーポンプレゼント!」スマホからQRコードを長押ししてLINEで開いてください